Maintenance Power Box
Date:2015/12/25 15:32:04 Visits:Times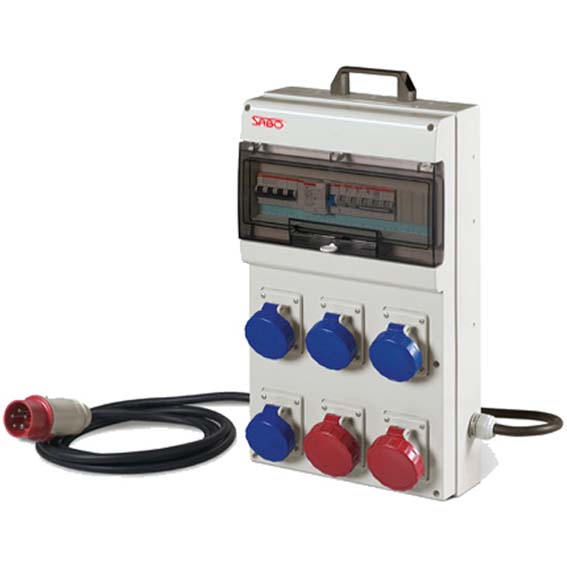 SABO Maintenance Power Box (Cabinet), with a high degree of protection, high safety and reliability, beautiful appearance, convenient connection, long service life lamp features. Applicable to the rated working voltage of 230V/400V, frequency 50/60HZ, DC 440V power distribution network, as the maintenance equipment or the use of electric power equipment.The equipment has the function of overload, short circuit and leakage protection, the box adopts metal, engineering plastic (polycarbonate) or glass fiber (SMC), the overall protection level of IP65 above. Widely used in electric power, metallurgy, cement, petrochemical, coal, ports, docks, airports, rail transportation, machinery, food, construction, sports, landscape, and other various industries Touchi, outdoor places.
1.Execution Standard
GB7251.1-2013,GB7251.4-2006

GB11918-2014,GB11919-2014

IEC60439-1,IEC60439-4

IEC60309-1,IEC60309-2

IEC and other relevant national standards
2.Product Features
beautiful appearance, novel structure, high protection level

has the function of overload, short circuit, leakage protection and so on.

a protective switch chamber with an observation window for easy operation.

Combination to achieve different voltage level socket configuration

the case of the material of the box material is flame retardant, self extinguishing, aging resistance, good thermal stability.

chemical media, atmospheric media

electrical scheme is flexible and easy to combine.
3.Product Form
cold rolled steel box

stainless steel plate

engineering plastics (polycarbonate) box

glass fiber (SMC) box
4.Technical Parameters
rated insulation voltage: AC 660V

rated working voltage: AC 230V/400V, DC 440V

rated operating frequency: 50/60Hz

single loop output current: 16A, 32A, 63A, 125A, 200A, 400A, 250A

single circuit output voltage: AC 20-25V, 40-50V, 100-130V, 200-250V, 380-480V, 500-690V

output socket number: 3P+PE, 3P+N+PE, 2P+PE

protection level: plastic box IP67, metal box IP56

power frequency withstand voltage for 1 minutes: 2.5KV / 1Min

clearance: ≥5.5mm

creepage distance: ≥10mm
5.Product Selection
According to the installation method, the box material, the protection level, the distribution plan and so on the parameter choice model, the concrete type selection according to the following chart shows

A:no!
Next:no!