Smart City Internet of Things
Smart City Internet of Things
Date:2015/12/25 17:53:32 Visits:Times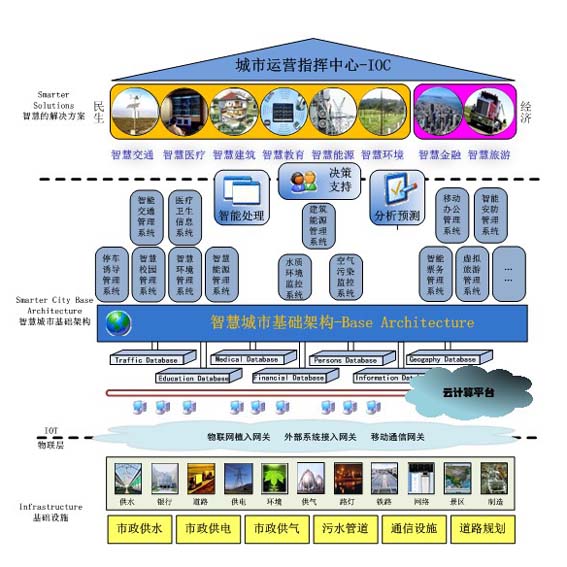 SABO Smart City Solution is the use of Internet of things, cloud computing and other advanced information technology means, comprehensive sensing, analysis, integration of key information in the city, through the provision of intelligent services, so that the city's management and services more effective, for the city's industrial and commercial activities and the public to provide people with social, people and people, people and the environment.
The solution is to use a new generation of information technology, to recognize the object, to achieve the information transfer between the city and the object, and to carry out the unified management and scheduling of the information.
1. Infrastructure:
Municipal water supply;

Power supply;

Gas supply;

Street lamp;

Traffic parking;

Sewage pipes;

Road planning;

Health;

Environmental protection;

Industrial and mining enterprises;

Tourist attractions;

Communication facilities;

Education and campus.
2. Architecture:
Water quality environmental monitoring system;

Intelligent energy management system;

Intelligent traffic management system;

Intelligent security management system;

Intelligent ticket management system;

Medical information system;

Air pollution monitoring system;

Building energy management system;

Virtual tourism management system;

Mobile office management system;

Intelligent campus management system;
3. Smart City Operations Management center:
Intelligent Energy

Intelligent Transportation

Wisdom Medical

Intelligent Building;

Intelligence Environment

Wisdom Education

Intelligent Tourism

Intelligent Finance
A:no!
Next:no!